Welcome to Reich Relics Militaria!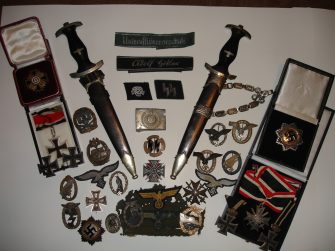 You will find the finest quality original militaria here.
I am also a collector for the past 30 years, so my passion for quality collectibles reflects on the items I offer for sale. Ranging from common tinnies to exquisite SS uniforms. I try to offer a wide range of militaria for all collector budgets.
We are now offering our items for sale via this website. The days of written catalogs and mailing lists has long since passed and we are now in the modern age.  We want to build a working relationship with the collector to aid him in his search for pieces to add to his collection.
We are here to assist and aid you in your search for militaria of all types. Thank you for looking at our offerings, and we look forward to serving your collecting needs!
We scrutinize each piece we offer to make sure the collector adds only the best to his collection. Whether it is the common tinnie, combat badges, political awards, helmets, daggers, or a Knights Cross we strive to bring you the best selection and quality.